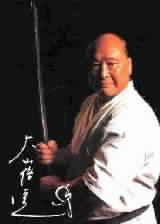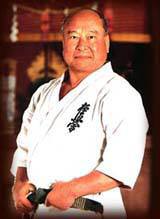 1923. Yong I-Choi, who later took the name of Matsutatsu Oyama, and became the Sosai of the International Karate Organisation Kyokushin, was born on the 27th July.
1925 Matsutatsu Oyama was sent to his sisters home in Manchuia.
1936 Matsutatsu Oyama entered primary school in Seoul Korea, where he started the study of Chinese Kempo under Mr. Yi. He gained proficiency in the eighteen hands technique and in the second year he gained the equivalent to shodan.
1938 Matsutatsu Oyama entered Yamanashi Airway school in Japan.
He studied karate under Gishin Funakoshi, one of the first three to being karate to Japan and under Mr So Nei Chu, who was also Korean and from the same district as Matsutatsu Oyama. So Nei Chu was the foremost expert in Goju Karate at the time and is credited with introducing Goju to Japan.
1940 Matsutatsu Oyama entered Takushoku University. Gained Nidan.
1945 Matsutatsu Oyama started the Eiwa karate-do Research Institute in Sinami-ku Tokyo, but six months later it closed.
1946 Matsutatsu Oyama entered the physical Education Department of Waseda university.
Matsutatsu Oyama visited Eiji Yoshikawa and Shiro Ozaki, two famous Japanese writers , to study more about the old Samurai way. Eiji Yoshikawa "Musashi" a book that Matsutatsu Oyama took with him when he went into the mountains to give him inspiration.
Matsutatsu Oyama went to mount Minobi for training. Matsutatsu Oyama picked this mountain as it is the place where Musashi developed his Nito-Ryu style of fencing.
1947 Matsutatsu Oyama entered the First All Japan Championships since the war, in Maruyama Gymnasium Kyoto and became Champion.
1948 Matsutatsu Oyama decided to devote his life to karate and trained alone for 18 months on Mount Kiyosumi in Chiba, to perfect his techniques and to form his karate way. After 18 months his sponsor wrote to him and told him that he could no longer support him and Matsutatsu Oyama had no choice than to return to civilisation. However by this time he had developed his path of karate and his philosophy of "Ichi geki hissatsu" one strike certain death.
1950 Fought against a bull in Chiba. He acquired a room in a butchers establishment and trained to kill bull with his bare hands. Usually by striking them between the eyes. Altogether he killed 47 bulls 4 dying instantly.
1951 Matsutatsu Oyama started teaching karate to the US. army in Japan, at camp Zama, Fuchu, Tachikawa, Yokohama , Yokosuka, Yokota and Takorozawa.
Matsutatsu Oyama started training in Judo at the Sone dojo in Chiba. He was eventually to gain the grade of yondan in judo.
1952 A karate organisation in America invited Matsutatsu Oyama to the USA. and over the next he did 32 demonstrations, taught in various states and participated in 7 fights.
1953 Matsutatsu Oyama travelled to the US again, where he fought a bull in Chicago and became popular by chopping of the bulls horns.
1954 Matsutatsu Oyama returned to Japan to under-go training for a movie in Boso Chiba.
Matsutatsu Oyama opened his first dojo in a burnt out area in Meijiro Tokyo, which consisted of a grass lot. The instructors were K. Mizushima and E. Yasuda.
1955 Matsutatsu Oyama was invited by a USA promoter to the USA. He also travelled to South America and Europe fighting against many people. Chopping the neck of whisky bottles was a very popular demonstration.
Matsutatsu Oyama fought another bull in Chicago and was highly criticised by the Animals friend Club.
1956 Starting in Okinawa, Matsutatsu Oyama travelled through South East Asia studying many different fighting styles.
The "Oyama Dojo" was opened behind the Rikko University . The instructors were K. Mizushima, E Yasudo, M. Ishibashi and T. Minamomoto. Sosai Oyama said this was the very beginning of Kyokushin, which at that time was called "Oyama Dojo". The beginning of a karate based on the principle of a 1,000 days training a beginner, 10,000 days training, a glimpse of the mysteries.
Matsutatsu Oyama returned from South East Asia
1957 Matsutatsu Oyama travelled to Europe.
Matsutatsu Oyama travelled to USA.
Matsutatsu Oyama travelled to Mexico a fought against a bull, he was injured and required 6 months in hospital.
1958 The book "What is karate" was published, becoming the first best selling book on Japanese karate.
The first overseas branch was opened under Shihan Bobby Lowe.
The FBI. in Washington invited Matsutatsu Oyama to teach and demonstrate.
The West point army school invited Matsutatsu Oyama to teach.
Matsutatsu Oyama went to Hokkaido to fight a bear but was unsuccessful.
1959 The first Hawaiian Tournament was held and Matsutatsu Oyama attended at the Supreme Judge. He also demonstrated at this tournament.
The Oyama dojo held its first Summer Training School at Ichinoniya in Chiba.
1960 Matsutatsu Oyama started 72 Branches in 16 countries
1961 The first North American Open Tournament was held in Madison Square Gardens, at which Matsutatsu Oyama attended as the Chief Judge.
1963 Construction started on the building in Ikebukuro which was to become the Kyokushin Karate Honbu.
1964 Muai Thai kickboxing challenged Japanese karate. Matsutatsu Oyama accepted the challenge as no other style to it up. he sent three students to Thailand, who won 2 out of the three fights. redeeming the name of Japanese karate.
E. Sato (former Prime Minister and Nobel Prize winner) became the Kaicho (President) of Kyokushin Kaikan. Matsutatsu Oyama became Kancho (director).
Tokyo Honbu was officially opened and IKO was established.
1965 The first winter training was held at Mount Mitsumine.
This is karate was published and became the "Bible " of karate. 3,000 pages of preparatory notes and 20,000 photographs were used for this publication.